All Services
Design for Non-Profits
Free branding and websites
A socially conscious design studio
Sometimes time is more valuable than money.
We love to help non-profits in all stages of their journey, from the conception to ongoing support. It gives us a warm fuzzy feeling in the place our heart is supposed to be.
How we can help
Our mantra of 'If it's digital, we can do it' applies here.
We've produced everything from logos to WordPress websites to explainer videos for hyper-local charities and international NGOs.
EduSpots.org
We've been helping out EduSpots since they started out.
Now they are an internationally recognised NGO, transforming the educational opportunities of over 10,000 children in underserved and hard-to-reach communities in Ghana and beyond.
We've been delighted to design their branding, build their WordPress website and animate their explainer video.
blackspike have been incredibly supportive to EduSpots from the outset, helping us to develop a website concept that resonated with our work.
Their creativity, thoughtfulness and understanding of how to communicate our work effectively really stood out, and as a result we frequently receive positive feedback on our website from supporters and participants.
I would highly recommend blackspike to anyone who is looking for outstanding design work, with very reliable support throughout the process.
We felt that blackspike really believe in our mission and are ready to go the extra mile in supporting us. It has really made the difference to us as an organisation. – Cat Davison, Chair / Founder, EduSpots
EduSpots Explainer video
We designed, animated and edited this video in Blender.
The narrators are the EduSpot 'Catalysts' who sent their audio to us from Ghana.
The music was generously composed by Alliant Audio (whose branding we also did lol)
Look Sussex
Look Sussex are a tiny 5-person local charity offering experiences for Visually Impaired kids.
Essentially a group of loving and caring mums, their work has provided free, fun outings for over 250 Brighton families.
We were delighted to re-build their WordPress website to make it more engaging, accessible and modern.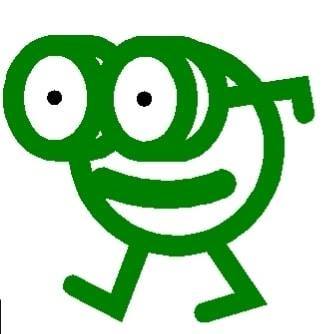 Look Sussex Mascot
They didn't have a logo, just this quaint drawing of a mascot.
We enjoyed reproducing it in 3D!
Sensing Friends
Another local Visually Impaired kids charity, this one focussing developing friendships.
National Lottery funded, they get bigger every year and offer drop-in sessions, creative workshops and counselling.
We designed and built their WordPress website and designed their branding materials.
Sensing Friends Logo
We wanted to portray a circle of friends.
They eventually chose the hands in a circle to focus on friendship rather than their disability.